YES! I optimised WordPress for photography. Here is my guide to get a fast WordPress site to showcase your photography and creative work.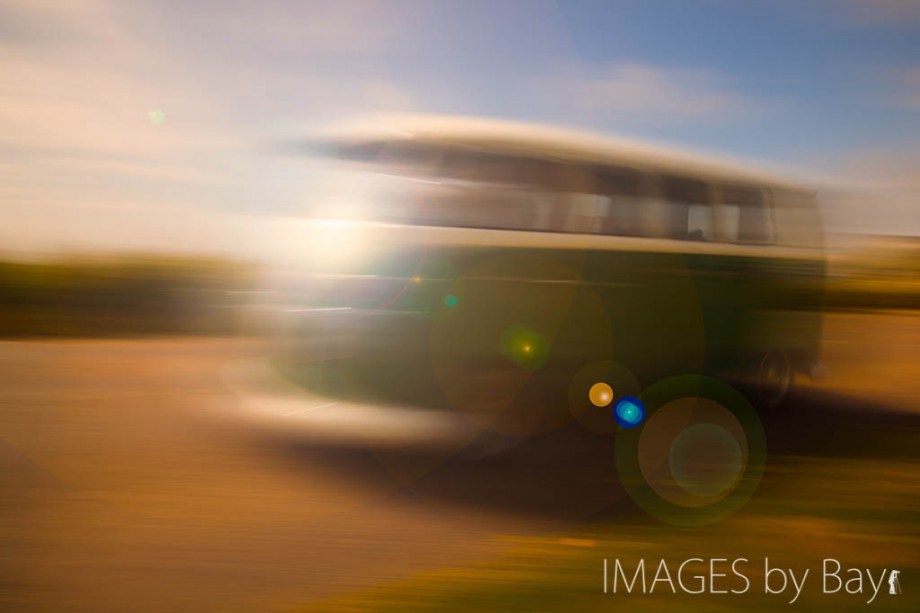 How to Speed up and maintain WordPress for Photography.
This is the story about how I have moved away from shared hosting and optimised my WordPress installation to get a fast responsive portfolio site. For a long time I have been hosted on the shared hosting at (mt) Mediatemple.net but as I got more sites and they got more popular the shared service started give me some downtime.
The obvious solution would be to add a dedicate MySQL GridContainer to my hosting or upgrade to DV Managed Hosting! I went with the last solution and a more expensive solution to get total control of the environment and to be able to scale and upgrade the server to my needs.
Beside upgrading my server I realised that it was a long time since I look carefully at my WordPress installation so to get everything into shape I took a look at my WordPress installation to speed everything up.
First of all you can see the improvement and let the figure talk for et self: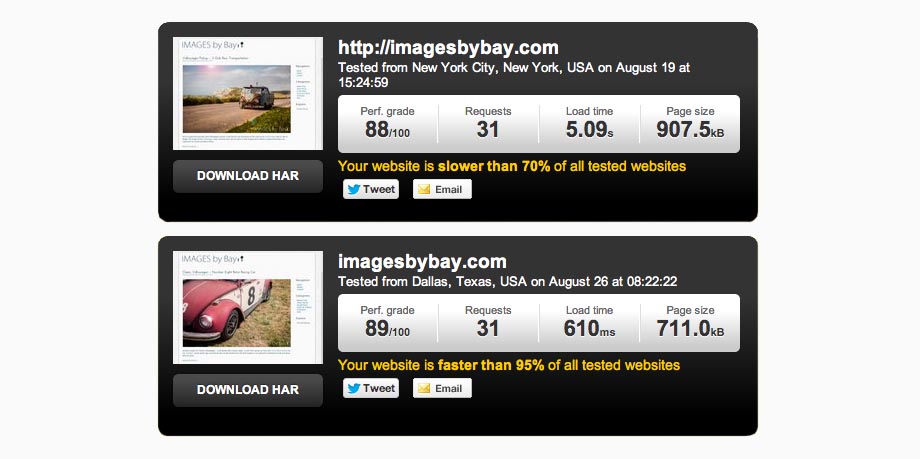 Look at that improvement from approximately 5 seconds to a load time of 610 milliseconds! The page size have changed a bit but only about 200kb so that not accounting for much of the speed improvement. I pretty satisfied that I can have images in 920 pixel width and still have a blog that loads faster than 95% of all tested websites.
WordPress Plugins
Image Gallery
I have used the NextGEN Gallery from when I made my first WordPress site and have used it ever since. Im sure it is the best plugin for organising and showing you images and photos. The plugin used to be in the hands of Alex Rabe but in June 2012 Photocrati acquired NextGEN Gallery and until now the plugin have been updated a twice and it seems that Photocrati take the job seriously which is good as it's one of the most popular plugins for WordPress. NextGEN Galleries offers great functionality for getting images from your desktop to your website. You can easily upload batches of images via a standard WordPress-style uploader, or upload images using a zip file or with your preferred FTP client. Even better NextGEN will automatically import your images' meta data and you can export images directly from Adobe Lightroom to your NextGEN gallery.
Search Engine Optimisation (SEO) Plugins
There are two leading plugins for SEO optimisation. Yoast WordPress SEO plugin is my current favourite all-in-one SEO solution for WordPress. Beside being well maintained and I really like the on-page content analysis which will show how well you have optimised a post or page for certain keywords. The other plugin I will mention is the All in One SEO Pack, which more os less automatically optimise your WordPress blog for Search Engines. Both plugins are easy to customise but I think the WordPress SEO plugin have most features and are the best to tweak to your needs. On the other hand the All in One SEO Pack is far easier and much simpler get your head around.
Speed & Cache Plugins
I have tried two different cache plugins the W3 Total Cache and WP Super Cache. The first is the the highest rated and most complete (and complex) WordPress cache plugin. The plugin speedup your site by adding browser, page, object and database caching as well as minify. The WP Super Cache
plugin generates static html files from your dynamic WordPress blog. After a html file is generated your webserver will serve that file instead of processing the comparatively heavier and more expensive WordPress PHP scripts.
I prefer and use WP Super Cache because it has a nice and simple user interface for setup and is the simplest to install. Also I get the best performance grade and load time with WP Super Cache. The better load is because WP Super Cache output a better compression as seen on the images below. If you have time to play around with W3 Total Cache you might be better off with that one – try both and make you own decision if you have the time.
Both plugins have integration with CDN which is a great plus. If you only want CDN integration i can recommend OSSDL CDN Off Linker.
Maintainance Plugins
A little helpful plugin is WP-Optimize which helps you to keep your database clean by removing post revisions and spam. Additionally it allows you to optimise your wordpress database (use with caution – I can recommend you do regular database backups so you can alway revert back if any thing goes wrong).
Another useful plugin is Quick Page/Post Redirect DEV to Redirect Pages, Posts or Custom Post Types to other locations. Includes individual post/page options, redirects for Custom Post types, non-existant 301 Quick Redirects (helpful for sites converted to WordPress), New Window functionality, and rel=nofollow functionality.
Last I should mention Broken Link Checker, which checks your blog for broken links and missing images and notifies you on the dashboard if any are found. It's great to keep track of the many outgoing links and keeping them up to date.
WordPress Hosting
Some this that can be a difficult solution for a self hosted WordPress blog is which host to use and what hosting plan you want to pay for. It's difficult because it require a bit of work changing if you end up with the wrong solution. It is also difficult to used other peoples recommendations because their needs are different and many only recommends a host that provide them with free hosting rely on income from affiliate links. I too use affiliate links but only if I like the product and I can honestly recommend it.
I started building web sites back when html was the thing and have always hosted my own sites a few years back I start to be more serious and look for a good inexpensive hosting and ended up with a Shared Hosting at Mediatemple.net. I've used that for more than two years now and have mostly been satisfied but as the numbers of websites started to rise I realised that I needed better hosting. So should I change or stay with Mediatemple.net well I choose to stay and upgraded to DV Managed Hosting it works great and after moving all my sites I can now relax and enjoy the speed and reliability of the server.
I'm not a net geek but if you are you could actually save a good deal on the (ve) Server but I need the control panel which makes it very easy to get it all set up and running. The (dv) Dedicated Virtual server have also a backup manager which let you back up different levels of you site and store them on the server or at a chosen FTP repository. Finally the (dv) can easily be upgraded if you need more power or space.
Content Delivery System – CDN
My last speed tip! I have setup an account at MaxCDN for only $1 (August offer) to make use of the MaxCDN Content Delivery Network which delivers and distribute static files through hundreds of servers instead of a single server located in the States. Basically the technology distributes your content (eg. images, style sheets) to your visitors via the city closest to them which mean you get a site that loads faster and theoretically ranks better in the search engines. Worried about setting it up? It's easy and evenmore, I got a personal email hours after signing up asking if I had any problems – then I was running.
A small trick is to use multiple custom domains. A Custom Domain is basically a subdomain of your primary domain that masks a Zone's CDN URL. You will have to cname all your custom domains to your Temporary URL.
I have created two custom domain:  pro.martinbayphotography.com and pro2.martinbayphotography.com. By adding multiple domains  you can increase the number of parallel downloads which decrease load time. Also remember to use gzip compression on the CDN. I noted a 20% decrease in loading times with compression turned on compared with no compression.
If you have questions, comments or suggestions you are very welcome to post a comment or send me an email.
Martin Bay