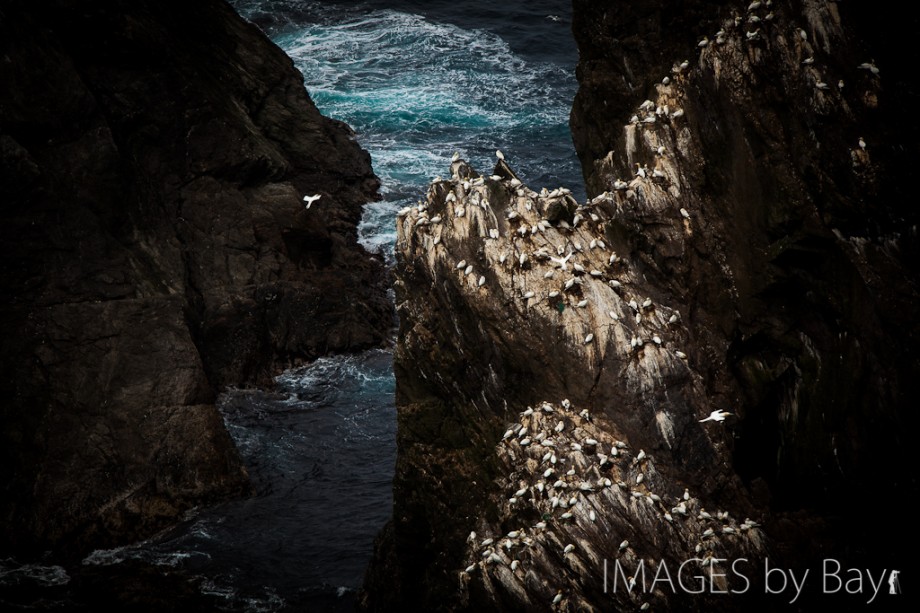 Image of the nesting northern gannets at Hermaness National Nature Reserve on Shetland. The northern gannet is the biggest seabird in britain, with  a wingspan of up to six feet. The North Atlantic population have been reduced to about 100,000 by the end of last century, after introduction of protection laws about 100 years ago they are now spread to Shetland.
As mentioned in another post I spectacular like to watch the gannets feed when they dive from heights of up to 30 meters. In fact their skulls are strengthened to withstand the impact as they hit the water. They breed from April to September and winter in the North Atlantic, some moving as far south as West Africa.
The image were captured at the Hermaness National Nature Reserve located on the norther part of Unst, the northern isle of Shetland. I like how the birds stand out against the dark blue water and the dark rock formations. The image have been capture with the Canon 70-200mm f/2.8 IS lens – I could have wished for a 400mm or even a 600mm lens but I like to get an wider perspective and still be able to carry my gear!
Please enjoy and ask questions in the comment box below.
Martin Bay