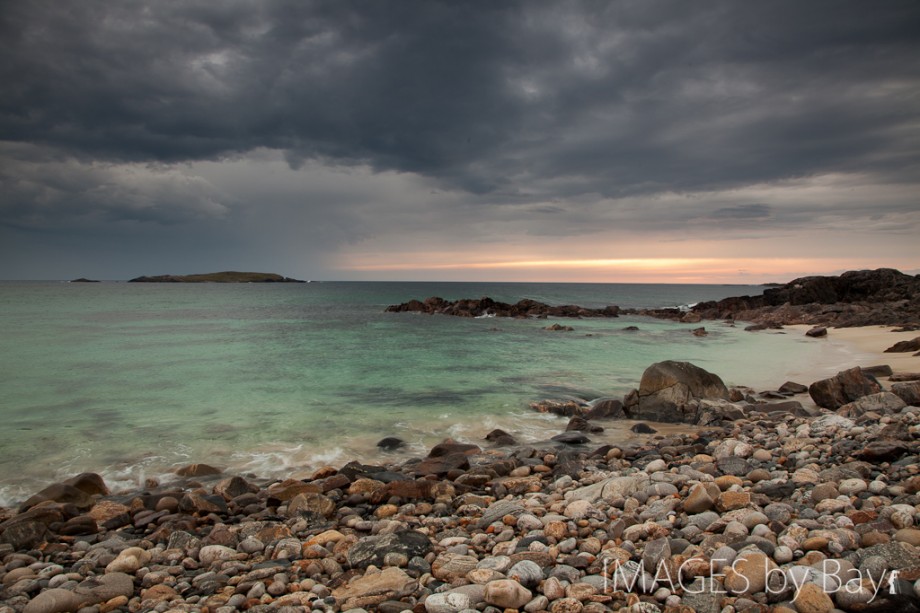 Sunset at the Outer Hebrides! We have checked in at the great cafe – Ralia Cafe on A9 from Edinburgh to Inverness. They have great coffee and great internet – what more do you really need 🙂 We have brought our laptops and have been working getting everything in place with our businesses. It's great what you can do on the road. We went to Edinburgh to – amongst other things – pick up our product designs and wow we are stunned about the beauties. We love it already and have a great feeling about it.
Anyway we are on the way up north and had to do a few skype call and mailing – now we sit and edit images looking out in the rain. Amazed about all the images my eyes went for a beautiful sunset on the Western Isles many weeks ago. The Hebrides Sunset was captured after many days of sun and really nice weather. We finally had some dark clouds and rain coming in from the south west making a dramatic light over the sea. The wind were catching up and it turned out the be a great evening and a nice dark night for some good sleeping!
Well we will soon be on the way up north and will soon be on the Shetlands for some more beaches and sunsets.
Enjoy the day and have a great evening.
Martin Bay