Two images from Temple Hof Airport – the first image is of the Troop Carrier outside the airport hangar – the second image is a close-up of the airstrip with its dark tarmac and yellow markings.
The Troop Carrier at Temple Hof Airport: The aircraft – The Douglas C-54 Troop Carrier – was one of the many aircraft used in the airlift to supply food, coal and other essentials to West Berlin so the inhabitants could maintain a minimum level of existence during the separation of east and west Berlin.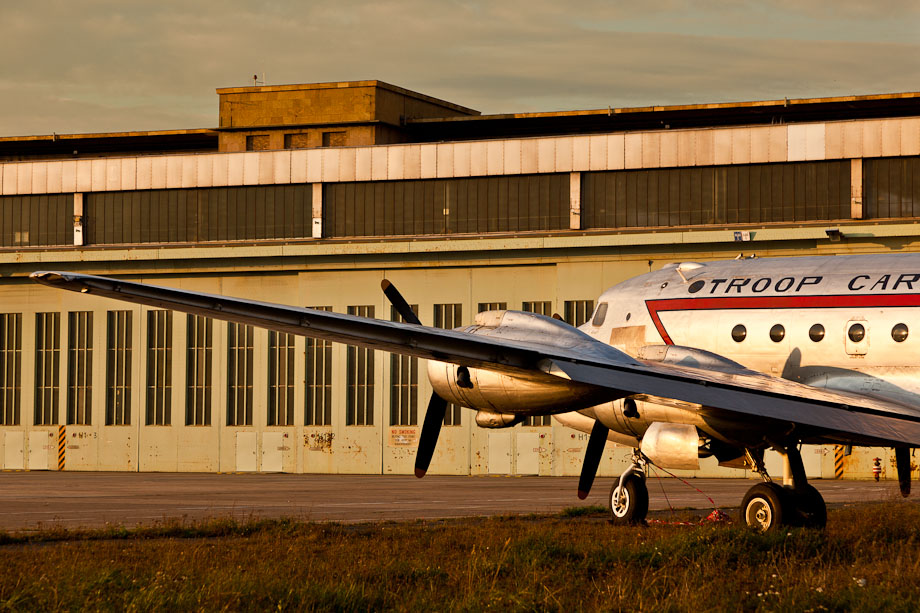 I captured the image of the Troop Carrier in the late afternoon when the sun was low and the sun were showering the plane in some great warm light. The Troop Carrier is behind a big fence so it's restricted how close I could get but squeezing the lens into the fence, setting the aperture a f/11 and a slow shutter speed I managed to get some images anyway with good depth of field with out using the tripod. I like the results of the warm tone of the old plane with the historical airport in the background
Berlin Tempelhof Airport
Berlin Tempelhof Airport (German: Flughafen Berlin-Tempelhof) was an airport in Berlin, Germany. The airport ceased operating in 2008 in the process of establishing Schönefeld as the sole commercial airport for Berlin.
In August 2009, Berlin city officials announced that Tempelhof would be opened in May 2010 as a city park. More than 200,000 Berliners visited the park to enjoy its wide open spaces for recreation ranging from biking and skating to baseball and kiting. Entrance is free and the park is open from 6 am until sunset and maintained by Grün Berlin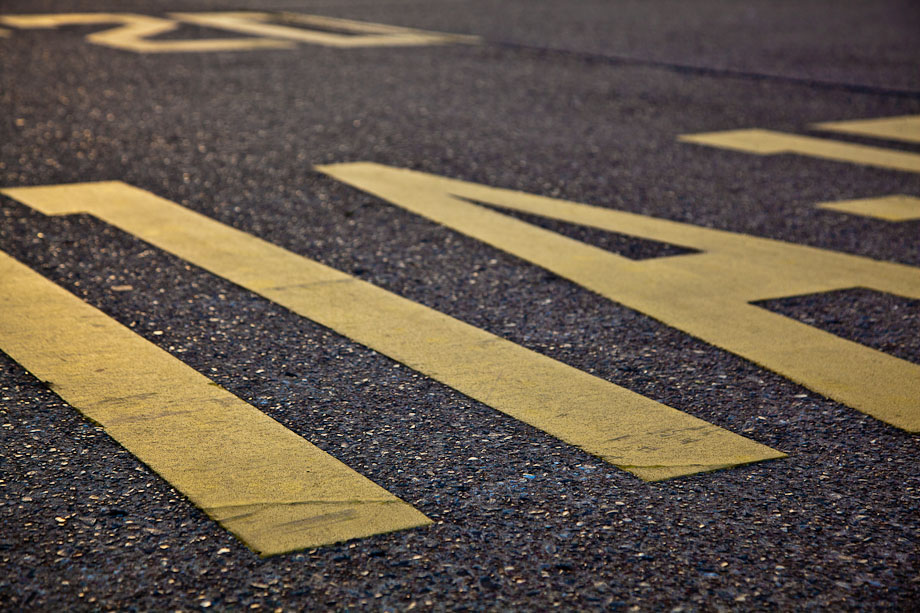 To get the image of the airstrip I wanted to get really close and capture the texture of the tarmac with the yellow lines. I set the zoom lens on 24mm and a large aperture to get a fast shutter speed in the low light condition in the evening. Having the camera in my hands I got down on my knees to get close enough to get the details of the texture.
Both images are captured with the Canon 5D Mark II and the Canon 24-105mm f/4 Zoom lens.
Martin Bay